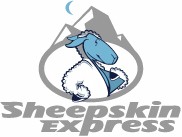 ---

Do you sell sheepskin plates?
Yes, we do. Our sheepskin plates measure 23" x 76" and they are available in the same colors as our sheepskin seat covers.

These plates are used for those who wish to make their own sheepskin covers, cushions, floor mats or other items.

Also, we will help you find an upholstery shop in your area or contact us with any ideas you may have.&nbsp We can make anything if you provide the design. We can also add foam padding or any other type of stuffing.

The cost is $190 for a full plate and $95 for a half plate.

Click here to view colors on our Home Page.
Return to the Customer Service Index
View our Sheepskin Seat Covers
---
Call Us Toll Free: 1-800-399-8041
(Mon-Sun 7am-10pm EST)
---
We love our sheepskin seat covers and so will you!
Go to our Home Page

"We guarantee satisfaction."
(Click above image to view our Facebook)
Accessibility Statement | Privacy Policy
Copyright © 1999-2020 Sheepskin Express. All rights reserved.